FREQUENTLY ASKED QUESTIONS
The following information is provided to answer frequently asked questions about benefits. Please review the entire terms and conditions of membership by clicking on the link at the bottom of this page.
A: Sandals Select Rewards is a loyalty rewards program where members can earn points and benefits based on their loyalty tier status.

A: There are multiple ways to join the program:

Visit www.sandalsselect.com/enrollment to enroll
Guests can enroll while checking in to the resort
Guests can visit the Loyalty & Travel Lounge on resort to enroll
Guests can download the Sandals & Beaches app from their App Store and enroll

A: No. Sandals Select Rewards is a free program where members earn points, receive special recognition, and are invited to special member only events.

A: Yes! It is very important when making a booking, a booking that you are adding your Sandals Select Membership Number to the booking every time. If the number is not on the booking then we will not know your booking is associated to your Sandals Select Rewards account and will miss out on all the benefits. You can always call

1-800-NOW-4SSG

to make sure your number is attached to your booking OR check your member account online under and select "Trips" to ensure its there or add it on.

A: There are multiple ways you can find your Sandals Select Membership Number

Members can login to their Sandals Select Rewards account by visiting sandalsselect.com
Members can download the Sandals/Beaches App
Members can call 1-800-NOW-4SSG

A: You can join, however, no points or nights will be awarded. We only award points and nights for one account per room.

A: Sandals Select Points will be earned based on the web rate of the land portion of the booking. Airfare will not be eligible for earning any Sandals Select Points.

A: The higher the status the more points you will earn with the Sandals Select Rewards Program

Member Status does not earn points.
Select Status earns 1 point per $
Coral Status earns 1 point per $
Sapphire Status earns 1.5 points per $
Emerald Status earns 2 points per $
Diamond Status earns 2.5 points per $
Pearl Status earns 3 points per $
Ambassador's Club Status earns 3.5 points per $

A: Yes, both members can split the points earned for the total amount of the booking. All nights will be awarded to both members separate accounts.

A: Returning guests are able to earn and redeem Sandals Select Points on their group reservation with the exception of incentive groups. Incentive groups aren't able to redeem Sandals Select Points against their group reservation. Members of incentive groups can enroll in the Sandals Select Rewards Program post travel but are not entitled to the points from the incentive group stay.

A: The primary member per Sandals Select Rewards account who makes a social group booking may earn points and nights for up to three (3) rooms within each calendar year in which they are not an occupant, as long as the primary member is 100% financially responsible for said rooms. The Sandals Select Rewards Club will require the following documentation in order to process this request:

Proof that primary member paid for the rooms in the form of a copy of the credit card statement or cancelled check.
A signed letter releasing the nights from the adult guests who stayed in the room with a copy of their Driver's License or the letter must be notarized.
A signed letter from the adult guest agreeing that the points belong to the said primary member.

Sandals Select numbers may be added 46 days prior to arrival. Within 45 days the number will be added but no discount will be applied.

A: No, now members may redeem Sandals Select Rewards Points for discounts on bookings at participating resorts for up to 100% of the total room cost, minus a deposit. Rules at the time of redemption shall govern the redemption process. Some awards may require advance reservations.

A: Pearl and Ambassadors Club members can change their reservations while in the penalty period without fee. Sandals will waive the fee up to 2 times. Please note, this will not protect the rate.

A: The member who applies their Sandals Select Membership Number to the reservation will earn credit for the stay.

A: Absolutely! Beaches Resorts are a part of the Sandals family and any booking made for Beaches Resorts can earn points based on the room rate.

A: The Sandals Select Rewards "S" pins is a one-time gift members receive when achieving a new tier status in the Sandals Select Rewards Program starting at Sapphire level. This one-time gift will be presented to members at the weekly Sandals Select Rewards Loyalty Dinner.

A: Each time a Coral – Ambassadors Club member travels to any Sandals or Beaches Resorts they will earn additional bonus points for each return visit. These points are in addition to the points they earn on the booking. The quantity of bonus points is based on the member's current status in the Sandals Select Rewards Program. These points will be added to the members account 48 hours after check in.

A: The Surprise Discount voucher can be redeemed on every purchase while on-resort during the stay as many times as you wish. The voucher is redeemable at the Gift Shop, Photo Shop or Red Lane ® Spa. The voucher will not have any value once checked out. Please visit

https://sandalsselect.com/terms/

for more details.

A: If a Member's significant other does not want to participate in the massage, the participating member will only receive one (1) massage equivalent to the time they are awarded. Members are able to upgrade their service and use their Surprise Discount voucher for a discount.

A: Currently the only way to earn points is on the room rate paid.

A: Sandals Select Reward members are eligible for a Free Week Award. Members must have 70 paid nights to be awarded their Free Week Certificate to any Sandals or Beaches. Complimentary, unpaid nights do not count towards the free week. The Free Week certificate is awarded at the weekly Loyalty Dinner.

A: Any complimentary nights will not count towards earning the next tier status.

A: The resort and room category for the free week is decided by calculating the average resort and room category where a guest has stayed over the duration of their 70 nights with Sandals/Beaches.

A: Sandals Select members can only redeem their Free Week Award on a new booking.

A: You can only receive credit for your paid nights on past stays, which will count toward the 70 Paid Night Free Stay component of the program, if you have proof of the business transaction like a copy of your invoice or booking number. Photos or other media are not sufficient evidence of your stay.

A: No, points may only be earned on past stays where those stays were completed within 120 days of the date of your enrollment into the program.

A: Yes. Sandals Select Reward Points will expire three years after the last date of activity. If you have an active future booking attached to your Rewards account your points will not expire. If the booking is canceled your points will expire the day of the canceled booking.

Important Note: Members are responsible for ensuring that they ADD their Reward Membership Number to their reservation every time. Members are also responsible for ensuring that points/nights earned are properly credited. If they are not properly credited for Points within 120 days of travel, they must send a copy of their reservation voucher, resort invoice in question, and payment receipt with their membership number to the Sandals Select Rewards department.

Email - [email protected]

Phone Number - 1-800-NOW-4SSG (1-800-669-4774)

A: There are a few different ways to update your information and ensure that your records are current. You may access your account online at sandalsselect.com

Call 1-800-NOW-4SSG and one of our agents will be happy to help you update your account

Email [email protected] with any changes

A: Once your membership has been completed it is a legal document. In this case, we will require that you send email stating that you wish to change your last name to

[email protected]

Along with the letter, please include a photocopy of any legal documentation (i.e. wedding certificate, divorce decree, etc.) reflecting the name change from your previous name to your current name.

A: Sandals Resorts International reserves the right to deny or revoke Sandals Select awards, points, and nights credit at any time if determined that the awards, points, and/or nights were improperly given.

A: The Primary Member must call 1-(800) NOW-4SSG and verify personal account details for the agent to close the account and proceed with recording the account deactivation. Verbal confirmation of the account's deactivation is provided.

A: Upon the verification and verbal confirmation that the Member's account has been closed or cancelled, please send an erasure/deletion of personal information or personal data email request to

[email protected]

and all personal information shall be removed in accordance with our terms and conditions found on

sandalsselect.com/terms/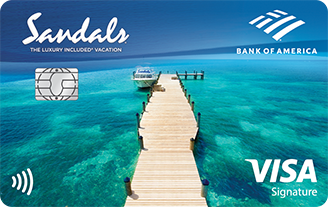 $150 Online Statement
Credit Offer
Apply here for this offer. Offers vary elsewhere.
Residents of the US and its territories only. See full disclosure for details.